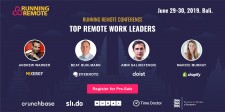 Event
-
updated: Mar 4, 2019
If you're running a remote team or serious about starting one, this is the conference for you. Running Remote is carefully curated to teach you next-level, actionable strategies and tactics you can utilize the very next day to build & scale your remote team. We aim to contribute to the future of work by educating founders & professionals. At Running Remote, you get to meet and network with leading tech companies, thought leaders and founders of globally distributed teams.
Running Remote is a 2 day event, focused on helping CEO's and team leaders build and manager their distributed teams and distributed companies. 
We are back with another great lineup of remote company leaders and innovators! Listen to inspiring talks by inspiring people LIVE on stage and get practical advice you can apply to scale you remote business.
This year the conference is also hosting the World's First Panel Discussion by Remote-Friendly Venture Capital firms. What does it take to get funded as a remote company?
Top remote work leaders will share their stories over the 2 days of keynotes and workshops. 
Running Remote conference will take place in a 5 star luxurious resort on the southern coast of tropical Bali. 
Nick Francis, Help Scout
Mariano Suarez-Battan, Mural
Dr Beat Buhlmann, Evernote
Marcie Murray, Shopify
Andrew Warner, Mixergy
Adii Pienarr, Woo Themes
Amir Salihefendic, Doist
Zack Onisko, Dribbble
Andreas Klinger, AngelList
Andrew Dumont, Curious Capital
Marcela Fernandez, Selina
Marvin Liao, 500 Startups
Tim Burgess & Duncan MacIntosh, Shield Geo
Ilyas Vali, rLoop
Tammy Bjelland, Workplaceless
Liam Martin, Time Doctor
Edmund J Lowell, Flagtheory
Laurel Farrer, Utah Rural Online Initiative
Nataniel Orea, Coworking Nest
Use our 20% discount to gain discounted access: newswire
Share: