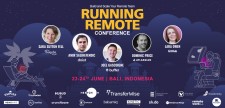 On June 24 in Bali, Joel Gascoigne, Buffer CEO, and Amir Salihedfendic, Doist CEO, will discuss the evolution of remote work culture
BALI, Indonesia, June 7, 2018 (Newswire.com) - The world's biggest remote work conference will be attended by 250 remote team leaders from over 30 countries on June 23 and 24 in Bali. Organized by one of Forbes' top 10 co-working spaces on earth, Hubud, Running Remote 2018 it will take place at the Luxury Spa resort Fivelements Bali, in Indonesia.
For the first time in the Southern Hemisphere, experts will host a series of talks about building, running and scaling remote teams of the future.
The fireside chat between Joel (CEO of Buffer) and Amir (CEO or Doist) will be a highlight of the conference. Buffer has scaled a fully remote company with over 70 staff and $80 million in revenue. In an interview with Amir who believes real-time communication may be counterproductive in remote work, Joel Gascoigne will share his perspective on benefits of running a remote company.
Lara K Owen, director of global workplace operations at GitHub, will also be speaking at the conference. "The challenges are still many and the methods for success are still evolving. That's why it's so important for those of us leading the way to come together to share our knowledge, our passion and our best practices." 
Agenda:
Atlassian: The Future of Teamwork in a Distributed World
Gender Equity: How Remote Work Can Move the Needle
How Do You Collaborate on Design Remotely?
How GitLab Handles Daily Operations Without an Office
Why Real-Time Communication is Venom for Remote Work
Why Buffer Chose to Build Remote First
The speakers are:
Joel Gascoigne: Co-Founder and CEO, Buffer
Dominic Price: Head of R&D and Work Futurist, Atlassian
Amir Salihefendic: Founder, Doist
Lara K Owen: Director, Global Workplace Operations, GitHub
Sara Sutton Fell: Founder, Flexjobs
Liam Martin: Co-Founder, Time Doctor & Staff.com
Indrek Pällo: Chief Representative, Enterprise Estonia Singapore, E-Residency
Dmitriy Zaporozhets: Co-Founder, GitLab
Justin Cooke: CMO, Empire Flippers
Sarah Kuehnle: Head of Product, Dribbble.com
Andrea Loubier: CEO, Mailbird
Stuart Jones: Founder, Coworkation
Steve Munroe: CEO, Hubud
Omar Zenhom: CEO, WebinarNinja
Trimikha Valentius: Lead Developer, Ogilvy Australia
Reg Cheramy (Co-Founder and CEO, StormBoard)
Marit Martin (Co-Founder and CEO, Hundred5)
Sponsors
The event is sponsored by a group of companies whose workforce entirely or substantially consists of remote employees: Heetch, TransferWise, Transformify, Time Doctor, Empire Flippers, Visuer Interactive, Remote Work Hub, Newswire, WebinarNinja, Intellyo, Kinetic Business Solutions, Balsamiq, Slido, Estonia e-Residency, Scraping Hub, Crunchbase and Coworkation.
Contact
For media and other inquiries, please contact info@runningremote.com.
Source: Running Remote Conference 2018
Share: